Chlorine / Chloride Meters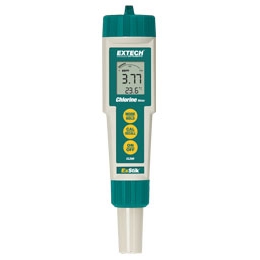 Chloride / Chlorine Meters
Use to monitor irrigation water, especially  from water supplies where chlorine is added for disinfection
Monitor chloride in water used for compost teas to prevent killing microbes
Monitor chloride level in liquid fertilizers for example KCL content
Monitor chloride in soil solution by making soil sample
Monitor chloride in plant tissue and crops
Monitor rain water, drinking water, swimming pools and other water sources of interest
The terms Chlorine and Chloride are often misunderstood. Chlorine is the element with atomic number 17 and symbol Cl. In its elemental form it is actually a gas (Cl2) which is used in water purification, however chlorine does not occur naturally this way and is very unstable. Chlorine gas has to be manufactured and will combine itself with many other elements in the same way that Oxygen does which is why it makes a great disinfectant.
When Chlorine picks up an electron to form an anion (negatively charged ion) it is known as chloride and it is chlorine in this form that is stable and present in the soils.
The soluble chloride ion (Cl-) accounts for nearly all the chlorine available in the soils and remains mainly in the soil solution that the plants can take up. Too much chloride can accumulate and become damaging to plants and if too high all the biological life in the soil. However it is also an essential plant micro-nutrient so has to be available in small quantities for certain photo-chemical reactions during photosynthesis.
Chlorine toxicity can occur for a number of reasons such as a  high chlorine fertilizers such as Muriate of Potash (KCL), from rainfall in coastal areas and even as runoff from roads when applied for de-icing. However most Chloride toxicity results from unsafe levels in irrigation water and should be monitored.
Table 6. Chloride classification of irrigation water.
Chloride (ppm)
Effect on Crops
Below 70
Generally safe for all plants.
70-140
Sensitive plants show injury.
141-350
Moderately tolerant plants show injury.
Above 350
Can cause severe problems.
Chloride tolerance of selected crops. Listing in order of increasing tolerance: (low tolerance) dry bean, onion, carrot, lettuce, pepper, corn, potato, alfalfa, sudangrass, zucchini squash, wheat, sorghum, sugar beet, barley (high tolerance). Source: Mass (1990) Crop Salt Tolerance. Agricultural Salinity Assessment and Management Manual. K.K. Tanji (ed.). ASCE, New York. pp 262-304.
Even sprinkler water high in chloride can cause leaf burn so it is very important to monitor waters added to your plants and also to drinking water as too much chlorine is deadly to anything it comes in contact with.